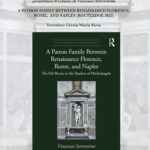 Presentazione del libro di Vincenzo Sorrentino
Venerdì 26 maggio 2023, alle ore 17:00 presso la  GIARA – Gipsoteca di Arte Antica e Antiquarium dell'Università di Pisa (Piazza San Paolo all'Orto 20, Pisa), si terrà la presentazione del libro di Vincenzo Sorrentino "A Patron Family Between Renaissance Florence, Rome, and Naples. The Del Riccio in the Shadow of Michelangelo" (Routledge 2022).
Presentano il volume
Eliana Carrara (Università di Genova), Stefano Dall'Aglio (Università di Venezia), Francesco Freddolini (Sapienza Università di Roma).
Introduce Cinzia Maria Sicca (Università di Pisa).
Sarà presente l'autore.
A Patron Family Between Renaissance Florence, Rome, and Naples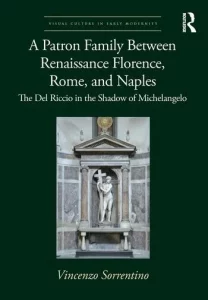 This book tells the story of the Del Riccio family in Florence in the early modern period, investigating the cultural mediations fostered by the family between Florence, Rome, and Naples, as well as shedding light on the intellectual and social exchanges between different regions of Italy and on the creation of foreign nations within the main Italian cities.
These social and cultural dimensions are further explored through the study of the obsessive persistence of the family's relationship with Michelangelo Buonarroti, exhibited both publicly, in the Florentine and Neapolitan family chapels, and privately in their homes. The main achievement of this study is to move the focus from the ruling power, the Medici family and the immediate members of their court, to a Florentine middle-class family and its social mobility: this shift from the conventional narrative to a distributed microhistory is fundamental to better assess the use of images and artworks in early modern Florence and abroad. The aesthetic and stylistic choices in the use of art and art display made by the Del Riccio reveal a deep awareness of the substantial differences in taste and meaning between different cities of the Italian peninsula.
The book will be of interest to scholars working in art history, visual culture, and Renaissance studies.
Vincenzo Sorrentino is currently a Research Fellow at the University of Pisa. He obtained his PhD at the University of Florence, and has published articles and essays on the Medici agents in Naples, on its Florentine community and on the Florentine churches in Naples and Messina.
---
Informazioni e contatti