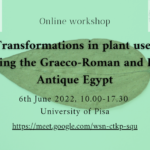 Lunedì 6 giugno 2022, dalle 10.00 alle 17.30 è in programma il workshop "Transformations in plant uses during the Graeco-Roman and Late Antique Egypt", organizzato da Riccardo Andreozzi, dottorando in Storia (Egittologia), come approfondimento del suo progetto di dottorato.
L'iniziativa si propone di stimolare una discussione sul tema dei cambiamenti negli usi del materiale vegetale e, più in generale, nel rapporto con il mondo botanico in Egitto in un periodo di importanti trasformazioni sociali e culturali, dall'età tolemaica fino a quella tardo antica e alla conquista araba (642 d.C.).
Dati i molteplici modi in cui il mondo delle piante entra nella cultura umana, l'obiettivo è di affrontare la tematica da diverse prospettive a seconda del campo di studio di ciascun ricercatore (medicina, magia, cibo, agricoltura, altri usi pratici), in modo da avere un approccio più integrato e multidisciplinare all'oggetto "pianta".
Il workshop si terrà esclusivamente online sulla piattaforma Google Meet: https://meet.google.com/wsn-ctkp-squ.
Programma
10.00-10.10 Greetings (Prof. Marilina Betrò, University of Pisa)
10.10-10.30 Introduction (Riccardo Andreozzi, University of Pisa)
10.30-11.10 Ursula Thanheiser (Universität Wien)
Agricultural Innovations During Roman Times in the Dakhleh Oasis
11.10-11.50 Agata Bebel-Nowak (University of Warsaw)
Pulses in Graeco-roman Egypt
11.50-12.10 Break
12.10-12.50 Robert Kade (Freie Universität Berlin)
Carob-cabbage on the pigeon-bean-tree: herbal entanglements in Demotic and beyond
13.00-15.00 Lunch
15.00-15.40 Anne Grons (Philipps-Universität Marburg)
"P. Carlsberg 500: a unique Coptic codex on medicinal plants and their uses
15.40-16.20 Federica De Marco (Università di Bologna)
Medicinal plants in the papyrus texts: Egyptian production and imports
16.20-16.50 Break
16.10-16.50 Maximilian Haars (Philipps-Universität Marburg)
Transplantation and Transformation: Galen on the Egyptian 'Persea', Mimusops laurifolia (Forssk.) Friis
17.00-17.30 Conclusions
Informazioni contatti