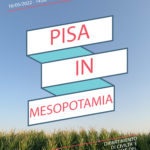 Workshop online sull'archeologia pisana nella terra dei due fiumi
Negli ultimi anni l'Università di Pisa e il Dipartimento di Civiltà e Forme del Sapere hanno avviato una serie di indagini archeologiche in Iraq, confermando l'interesse del nostro Ateneo per lo studio delle civiltà della Mesopotamia antica.
Per rafforzare la collaborazione tra i vari progetti pisani e colleghi internazionali, Jesper Eidem e Rocco Palermo coordinano il workshop Pisa in Mesopotamia, che costituisce un'occasione unica di discussione di nuovi risultati, approcci innovativi per la ricerca sul campo e di riflessione sul ruolo dei dati raccolti in passato per lo studio del vicino oriente antico.
Il workshop Pisa in Mesopotamia si svolgerà online lunedì 16 Maggio 2022 dalle 14.00 e potrà essere seguito da tutti gli interessati su piattaforma Teams.
Link Teams per partecipare: https://www.cfs.unipi.it/c/220516-pisa-in-mesopotamia
Programma
14 – 14.30: Saluti Ufficiali e Introduzione
14.30 – 16:20: Interventi di:
Rocco Palermo (University of Pisa) – The Spatial Configuration of Northern Mesopotamia from Assyria to the 1st millennium AD
Dlshad Marf (University of Sulaimani) – The Unpublished Iraqi Archives of the Fieldworks on the Rania Plain: 1957-1961.
Mohammed Lashkry (General Directorate of Antiquities, Erbil) – The Sktan Archaeological Survey: Field Methods and Preliminary Results, 2020.
Jesper Eidem (Università di Pisa) – Tell Shemshara and the Rania Plain in the Third Mill. BC.
16.20 – 16.30: Pausa
16.30 – 18: Interventi di:
Petra Creamer (Dartmouth College) – Geophysical Investigations on the Erbil Plain and Beyond
Sara Pizzimenti (University of Pisa) – Nineveh before Sennacherib. Preliminary Results of the 2019-2021 Field Seasons in Niniveh East Lower Town (Area E Bottom)
Costanza Coppini (Frei Universität Berlin) – The ceramic sequence from Shemshara: a preliminary assessment
Matteo Merlino (University of Amsterdam) – Dealing with the missing pieces of the puzzle: A holistic approach for the reconstruction and interpretation of the Palace of Kuwari at Tell Shemshara.
18 – 18.15: Conclusioni e Discussione
Informazioni e contatti