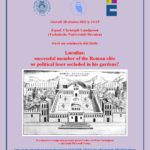 Per il nuovo appuntamento del Seminario di Storia Antica, giovedì 28 ottobre 2021 alle ore 14.15, presso l'aula 2 del Polo Carmignani (Piazza dei Cavalieri 8, Pisa) il prof. Christoph Lundgreen (Technische Universität Dresden) terrà il seminario dal titolo "Lucullus: successful member of the Roman elite or political loser secluded in his gardens?".
Il seminario fa parte delle attività del Progetto di Eccellenza del Dipartimento.
Sarà possibile seguire l'incontro anche online, utilizzando la piattaforma MS Teams.
Per intervenire in presenza o richiedere l'accesso alla riunione, gli interessati sono invitati a scrivere a: andrea.raggi@unipi.it – fabio.guidetti@cfs.unipi.it
Informazioni e contatti
Andrea Raggi – andrea.raggi@unipi.it
Fabio Guidetti – fabio.guidetti@unipi.it